Israeli official: Syria using chemical weapons
updated 12:10 PM EDT, Tue April 23, 2013
STORY HIGHLIGHTS
NEW: Kerry says he has not gotten confirmation of chemical weapon use
Defense Minister Moshe Yaalon said Monday the red line "hasn't been tested yet"
The use of chemical weapons would be "unacceptable," a Pentagon spokesman says
"In all likelihood, they used sarin gas," Israeli intelligence official says
(CNN)
-- The Syrian government is using chemical weapons against rebel forces, the head of the Israel Defense Forces' intelligence research and analysis division said Tuesday.
"In all likelihood, they used sarin gas," Brig. Gen. Itai Brun said at a conference in Tel Aviv. This comes as a civil war between the government and rebels rages across Syria, which borders Israel.
"One of the main characteristics of the recent events in Syria is the increasing use of ground-to-ground missiles, rockets and chemical weapons by the Syrian regime," Brun said, according to quotes provided by the IDF.
"According to our professional assessment, the regime has used deadly chemical weapons against armed rebels on a number of occasions in the past few months. For instance, on March 19, 2013, victims suffered from shrunken pupils, foaming from the mouth and other symptoms which indicate the use of deadly chemical weapons. The type of chemical weapons was likely sarin, as well as neutralizing and nonlethal chemical weapons."
Brun offered no evidence.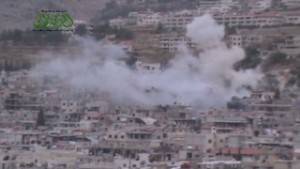 Is the red line for Syria turning pink?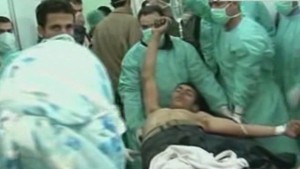 U.S. intel: No chemical weapons in strike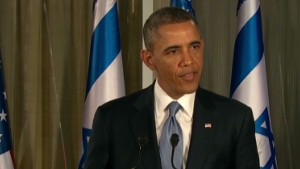 Obama: Chemical weapons a serious mistake
The accusation came a day after Israeli Defense Minister Moshe Yaalon, in a news conference in Jerusalem with U.S. Secretary of Defense Chuck Hagel, appeared less certain.
Asked about possible chemical weapons use in Syria, Yaalon said that Prime Minister Benjamin Netanyahu had said that allowing any "rogue elements to put their hands on chemical weapons from the Syrian chemical arsenal" would represent a red line.
"It hasn't been tested yet, but we are ready to operate if any rogue element is going to put his hands or any chemical agents are going to be delivered toward rogue elements in the region. It hasn't been tested yet."
U.S. Secretary of State John Kerry told reporters in Brussels that he had spoken with Netanyahu about the assertion of chemical weapon use. "He was not in a position to confirm that," Kerry said.
"I just think that the information that I have at this point does not confirm it to me (in a manner) that I would feel comfortable commenting on it as a fact."
Pentagon Press Secretary George Little said U.S. officials are assessing reports of chemical weapons use in Syria. "The use of such weapons would be entirely unacceptable," he told reporters Tuesday. "We reiterate in the strongest possible terms the obligations of the Syrian regime to safeguard its chemical weapons stockpiles, and not to use or transfer such weapons to terrorist groups like Hezbollah."
A senior U.S. official told CNN on Tuesday that Syrian government forces have carried out several movements of chemical weapons during the past month.
U.S. officials said they believe the chemical stockpiles remain under government control, but the movements have complicated the U.S. effort to keep track of them.
Asked last week at a hearing whether the United States could guarantee that it could secure Syria's chemical weapons stockpile if the government were to fall, the chairman of the Joint Chiefs of Staff was noncommittal.
"Not as I sit here today, simply because they have been moving it, and the number of sites is quite numerous," said Gen. Martin Dempsey.
Large cache alleged
Analysts believe the Syrian government may have one of the largest stockpiles of chemical weapons in the world. The supply is believed to include sarin, mustard and VX gases, which are banned under international law. Syria has denied the allegation.
Reports have repeatedly surfaced that Syrian forces have moved some of the country's chemical weapons inventories, possibly because of deteriorating security in the country, raising fears that if Syrian President Bashar al-Assad's government were to fall, the stockpile could fall into the hands of al Qaeda-linked groups working with the opposition.
The Assad government has accused rebels of using chemical weapons against government troops, an allegation that U.S. officials have not substantiated. Rebels have countered that government security forces have used such weapons against them.
Last month, Syria said rebels used chemical weapons in an attack in Khan al-Asal in the northern province of Aleppo. State-run media blamed rebels for the attack, which it said killed 25 people and injured more than 110 others.
Rebels, meanwhile, accused government forces of a chemical weapons attack on the rural Damascus suburb of Ateibeh.
An analysis of video of hospitalized Syrians released by state-run TV suggested that people were not suffering from a chemical weapons attack, nor were they being treated as though they had been in such an attack, a U.S. military official said at the time.
"The actions in the video don't match up to a chemical weapons response," the official said, adding that Syrian hospitals may have a shortage of the supplies that would be expected to be used after such an attack.
Analysts believe it's possible that the people in the video were exposed to a caustic agent such as chlorine. But that would not be the same as using a chemical weapon as defined by international treaties, such as a nerve or blister agent.
Embracing chemical weapons
Unlike nuclear weapons, chemical weapons are inexpensive to develop and stockpile.
This lends them a disproportionate importance for Syria and the region, analysts say.
"In the Middle East, chemical weapons have been seen as a possible counter to Israel's nuclear weapons," said Susan B. Martin, of the Department of War Studies at King's College London, in an interview in March.
Several countries in the Middle East have refused to sign the Chemical Weapons Convention until Israel signs the Nuclear Non-Proliferation Treaty.
Dina Esfandiary, a research associate at the International Institute for Strategic Studies, said last month that Syria embraced a chemical weapons program as a way to bolster its strategic strength despite economic weaknesses, especially after Israel imposed a series of humiliating military defeats on the Arab world.
"The best way to operate asymmetrically was for Syria to have its chemical weapons program," she said.
According to Esfandiary, chemical weapons' utility is "quite limited," as they are more of a deterrent than a real battlefield or tactical weapon.
"If you shoot a missile at a a population center, you can be fairly certain that anyone it hits will die," she said. "Chemical weapons use is not as clear-cut as that -- it depends on topography, weather, how you deliver the chemical weapons, and you can't always be clear it will cause maximum casualty."
Their real value is in their psychological power, she said. "It's a fantastic weapon of fear."
It's difficult to determine if chemical weapons have been deployed, unless you can recover a munition that retains traces of agent, Martin said.
Some conventional weapons or legal crowd control can also release smoke that causes respiratory problems, a common symptom of chemical weapons exposure.
This seems to have been the case in Homs last December, where the Syrian government was accused of using chemical weapons against civilians.
A U.S. State Department investigation concluded that the Syrian army did not use chemical munitions but apparently misused a riot control gas in the attack, which Syrian doctors and activists said killed six people and left dozens suffering from respiratory, nerve and gastrointestinal ailments.
In order to be sure of what happened, it's key to get people on the ground quickly who can speak to any alleged attack victims, study medical records and analyze samples before they decompose, said Patricia Lewis, a fellow at the UK-based think tank Chatham House.
Warnings about the weapons
President Obama has warned Syria's government that it would be held accountable for the use of chemical weapons "or their transfer to terrorists."
He said last August that any sign of chemical weapons being moved around in large quantities or utilized would be "a red line for us."
Russia, which has been staunch allies of al-Assad, has indicated that the use of chemical weapons would be a step too far.
In a letter to the U.N. secretary-general in December, Syria said the United States falsely accused it of using chemical weapons.
"What raises concerns ... is our serious fear that some of the countries backing terrorism and terrorists might provide the armed terrorist groups with chemical weapons and claim that it was the Syrian government that used the weapons," the state-run news agency SANA reported.
The Chemical Weapons Convention prohibits the production, stockpiling and use of chemical and biological weapons. Syria is not one of the 188 signatories to the convention.
CNN's Elise Labott, Barbara Starr and Laura Smith-Spark contributed to this report.