Why Egyptians are caught between euphoria and fear
July 16, 2013 -- Updated 1832 GMT (0232 HKT)
STORY HIGHLIGHTS
The Muslim Brotherhood's opponents say life in Egypt has suddenly improved
But where some see cause to celebrate, supporters of the former president see a coup plot
Regardless of the finger-pointing, security remains one of Egypt's greatest problems
Every night since the removal of President Morsy, cheap fireworks have briefly lit up the sky over Cairo
Egypt (CNN) -- "This past year, under Morsy, no-one smiled," says the grinning fruit seller with teeth whose color ranges from yellow to black at the gums. "Now people have started smiling again."
Only two weeks ago, Egypt's first democratically-elected president, Mohammed Morsy, was forcibly removed from power by the country's armed forces after millions took to the streets in a nationwide revolt on June 30.
Now the Muslim Brotherhood politician's opponents say life in Egypt has suddenly improved, with what appears to be the miraculous end of gas lines, electricity shortages, and the return of police to the streets.
Fahmy, a gray-haired butcher in Cairo says that at least three times a day power cuts had forced him to lock his meats in the freezer and stop selling to customers.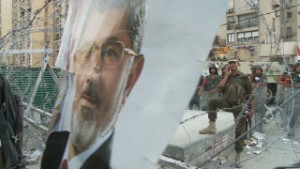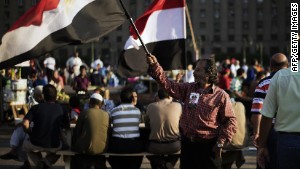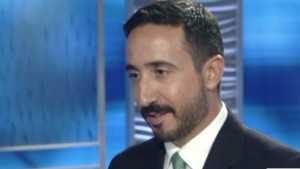 "Since the day Morsy was removed the situation is much better," Fahmy says as he prepares orders for customers. "There is power and gas and everything is available."
Electricity shortages during the past several months had forced millions of Egyptians to spend hours in the dark, and a lack of gas left many waiting in long lines just to purchase a few liters of fuel.
"The Muslim Brotherhood created this crisis so that people could get tired and say there is no solution but Morsy and he is the only one who can fix the country, but we have not seen any good come of him," says 20-something taxi driver Mohammed, as he fills up his cab's tank.
But where some see cause to celebrate, supporters of the former president see a coup plot and a conspiracy to undermine the deposed head of state's brief stint in office.
"Many of the entities and facilities in the government were not helping with the legitimate president," says Morsy's former minister of investment Yehya Hamed. "They were penalizing him because he was coming from a religious party."
Perhaps most alarmingly, security had deteriorated exponentially during the past year with crime on the rise and police noticeably absent, leaving many families petrified, threatening businesses, and slowing Egypt's culture of evening outings and late-night social events.
Hamed accuses the Interior Ministry, the body in charge of the country's police force, of failing to support the Muslim Brotherhood-led government and remaining loyal to the "felul" or remnants of ousted president Hosni Mubarak.
It's an allegation bolstered by Interior Minister Mohamed Ibrahim's statement on June 11 that police would only protect state institutions, not the Muslim Brotherhood headquarters, during the mass protests on 30 June that eventually forced President Mohammed Morsy out of power.
"Unfortunately the Brotherhood constantly feel like there is a conspiracy against them because they operated in the dark for a long time and were jailed and persecuted," says Laima Kamel a spokeswoman for political factions in support of the new interim government, refuting the allegations. "They always feel that people are against them but the truth is the opposition tried to negotiate with them."
With a quarter of the population living on less than two dollars a day, theories of collusion and accusations of plots against the people or the government are simply irrelevant to the daily struggle of many for "bread, freedom, and social justice."
"Even if this is a conspiracy theory done against the Muslim Brotherhood, then they are failures if they cannot fix the problem," says mustached fruit seller Emad Ali. "If he has the power and cannot govern, then he is a loser and we do not need him."
Regardless of the finger-pointing, security remains one of Egypt's greatest problems, with constant skirmishes, near endless calls for demonstrations and most recently mass violence such as the death of 51 people after clashes in front of the Republican Guard headquarters last week.
"We are almost there, we need just one final push and things will get better," a cop says as he directs traffic around a central Cairo square where only a few days ago clashes raged with no security forces in sight.
Every night since the removal of President Morsy, cheap fireworks have briefly lit up the sky over Cairo with bursts of color, but the euphoria may be more of an emotional fanfare than actual economic optimism.
"Now Morsy's off and we started a new era this does not mean the problems are gone," says Ahmed Ghoneim, Professor of Economics at Cairo University. "They are still there and they have to be tackled very soon, because the type of financial stress you are passing by is now relieved in the short term simply because of the help of the Arab countries pumping in money."
Structural problems such as a failing subsidy system, an estimated 25% youth unemployment last year according to the IMF, and an inefficient social safety net remain unresolved and continue to drag this country of some 82 million people down.
The recent economic boost "gives me aspirin and we have been living on aspirin, but does not solve the core of the disease," Ghoneim says.
The bleak outlook may have dour economists stopping the music, but for the Egyptian people, renowned across the region for their love of humor and witty comedies, optimism is a state of mind.
"God willing things will get better," says cab driver Mohammed. "We just have to be a little patient."