U.S. sends troops to Jordan to monitor Syrian chemical weapons sites
updated 7:27 AM EDT, Thu October 11, 2012
STORY HIGHLIGHTS
A senior Jordanian military official disputes Leon Panetta's account
U.S. defense chief says 150 Special Operations Forces troops are in Jordan
The United States is concerned about Syria's chemical weapons stockpiles, he says
Analysts: Syria is believed to have one of the largest stockpiles of chemical weapons
(CNN)
-- The United States deployed troops to Jordan to help monitor Syria's stockpile of chemical weapons and determine what efforts to take if violence spreads to neighboring nations, the U.S. defense chief said.
The announcement follows recent news that Syrian President Bashar al-Assad's forces moved some of the weapons for security reasons. Reports have emerged that rebels are focusing their efforts on capturing some of the storage sites.
"We continue to be concerned about security at those sites," U.S. Secretary of Defense Leon Panetta said Wednesday after a meeting of NATO ministers in Brussels, Belgium.
"We want to ensure that security is maintained and we want to be very sure that those (weapons) do not fall into the wrong hands."
Roughly 150 U.S. Army special operations soldiers have been working with Jordanian forces to monitor the chemical and biological weapons sites in Syria while trying to determine how to respond should an issue arise, according to the defense chief.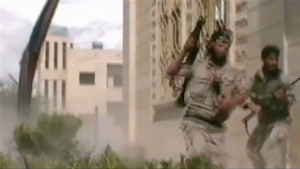 Syrian troops surrender in vital town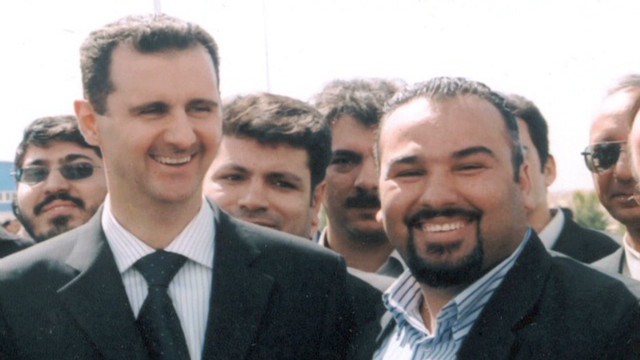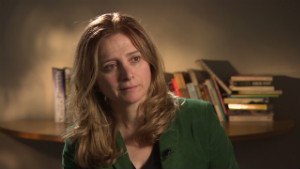 Syrian writer was beaten, humiliated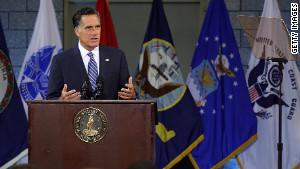 Romney supports arming Syrian rebels?
CNN reported in June that U.S. Special Operations Forces were training and advising Jordanian troops on a range of specific military tasks they might need to undertake if unrest in Syria spills into Jordan or poses a threat to that country. That information came from Defense Department officials who did not want to be named.
Panetta now has publicly acknowledged the troop deployment.
"We have a group of our forces there, working to help them build a headquarters and to ensure that we make the relationship between the United States and Jordan a strong one so we can deal with all of the possible consequences," he said.
"We've also been working with them to try to develop their own military and operational capabilities in the event of any contingency there."
A senior Jordanian military official denied Panetta's claims, according to the state-run PETRA news agency.
The American troops are in the country for an annual training exercise, the official from the Jordanian armed forces general command told the news agency.
There has been growing international concern about the fate of the weapons should the civil war escalate or if the weapons fall into the hands of rebels.
President Barack Obama warned al-Assad and "other players on the ground" -- presumably rebels -- that any attempt to move or use the chemical and biological weapons would be crossing a "red line" and would prompt a swift U.S. military response.
The United States also has been working with Turkey as part of its effort to monitor the weapons sites.
"They are obviously concerned about the (weapons storage) sites as well," Panetta said. "So we've worked with them to do what we can to monitor the situation."
Syria is believed to have one of the "largest and most advanced chemical warfare" programs in the Arab world, said Michael Eisenstadt, director of the military and security studies program at the Washington Institute for Near East Policy.
In other developments:
Turkey's foreign minister defends search
Turkish Foreign Minister Ahmet Davutoglu defended the search of an airplane en route from Moscow to Damascus, saying Turkey would not allow weapons for the Syrian government to be transported through its airspace.
"We are resolutely ready to control weapons supplies to the regime, which kills the civilian population," Davutoglu said Thursday. "We are against having our airspace used for such purpose."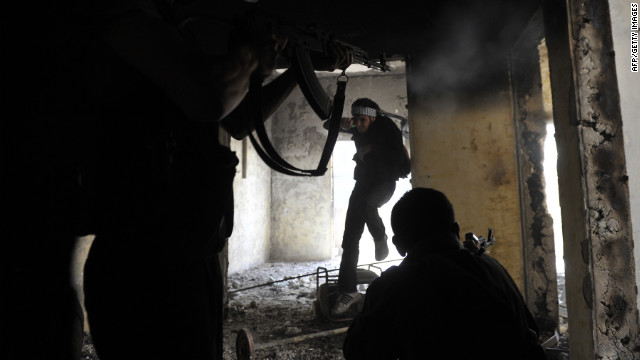 Syrian rebels take up positions inside a building during clashes with government forces in Aleppo on Saturday, October 6. Click through the gallery to view images of the fighting in October. See photographs of the fighting in September.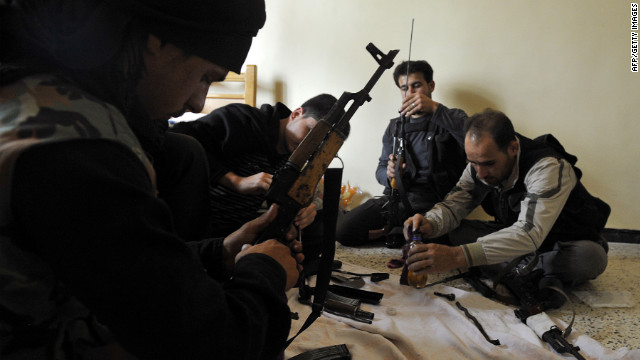 Syrian members of the Al-Saiqa rebel brigade clean weapons on Saturday before going to the front line in Aleppo.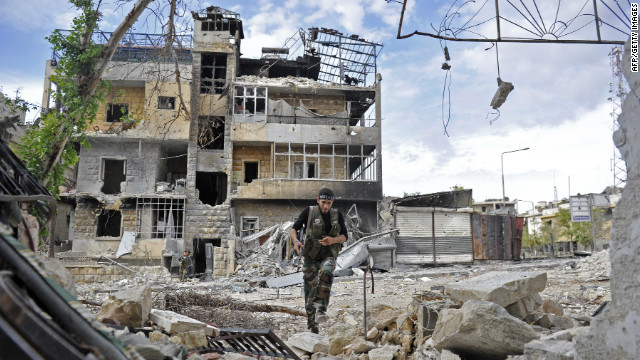 A Syrian rebel runs across a heavily damaged street to dodge sniper fire during clashes on Saturday.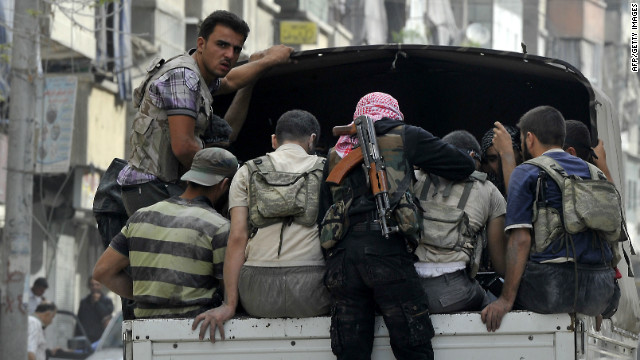 Syrian rebels patrol a neighborhood in Aleppo on Friday, October 5.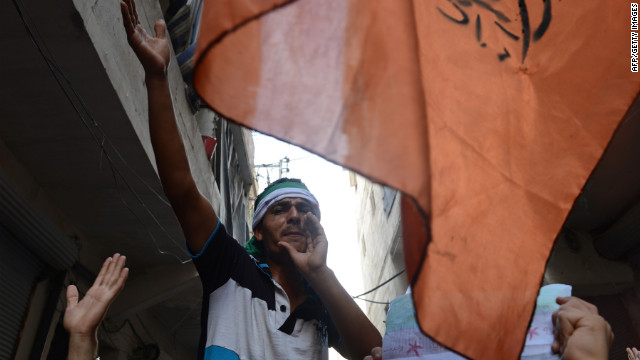 A Syrian demonstrator shouts during an anti-regime protest in Aleppo on Friday. Tensions rippled across Turkey a day after Syrian shells struck a Turkish border town and killed five people.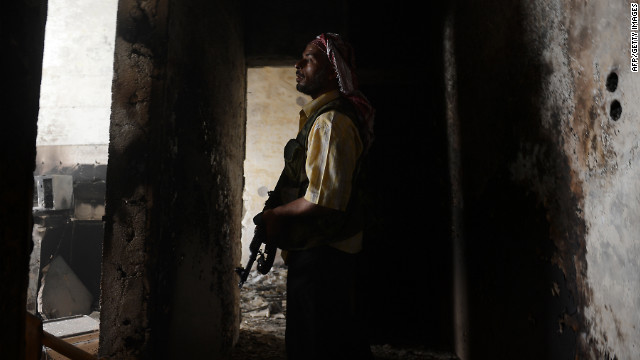 A Syrian rebel takes position during clashes with government forces in Aleppo on Friday.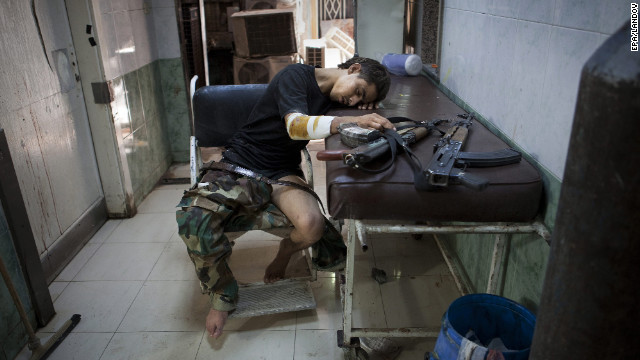 An injured Free Syrian Army fighter rests after receiving treatment at Dar al Shifa hospital in Aleppo on Thursday, October 4.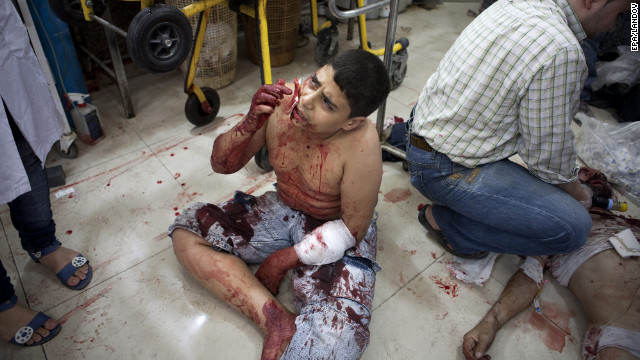 A child covers his wounds from a Syrian army sniper at Dar al Shifa hospital on Thursday.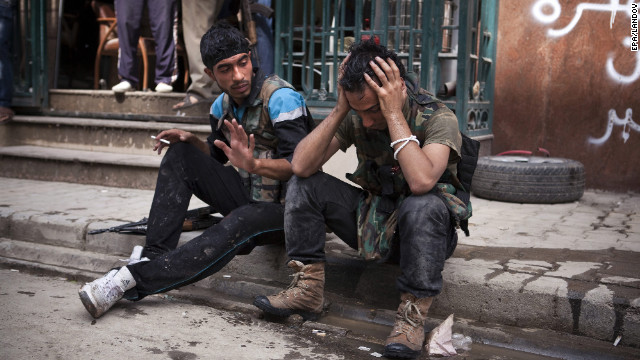 A Free Syrian Army figther cries after one of his friends was injured in fighting with government forces outside the Dar El Shifa hospital on Thursday.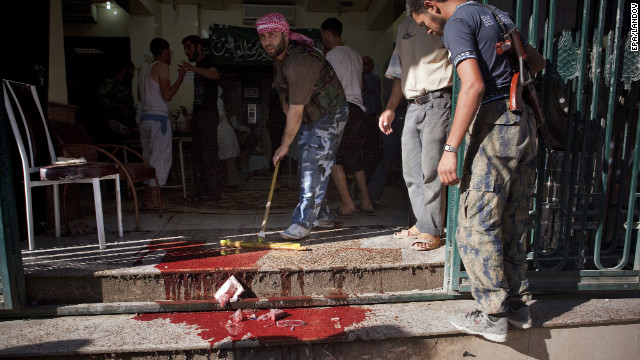 A Dar El Shifa worker cleans the floor outside the hospital in Aleppo on Thursday.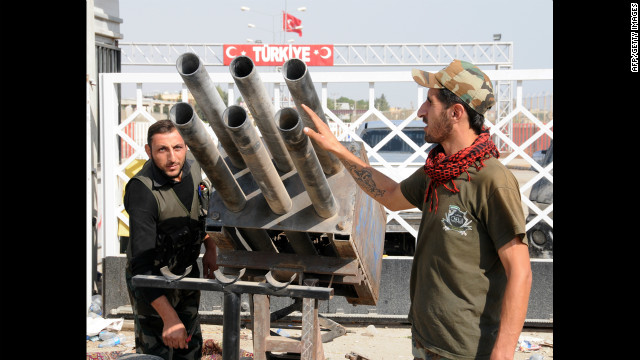 Syrian rebel fighters look at a multirocket launcher in Tal Abyadh, a Syrian town close to the Turkish border, on Thursday.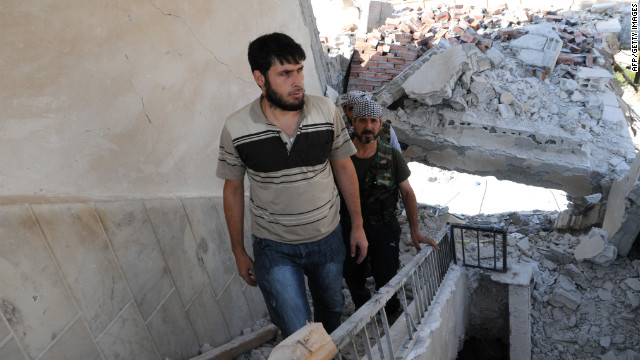 Rebels climb the stairs of a destroyed building Thursday in Tal Abyadh.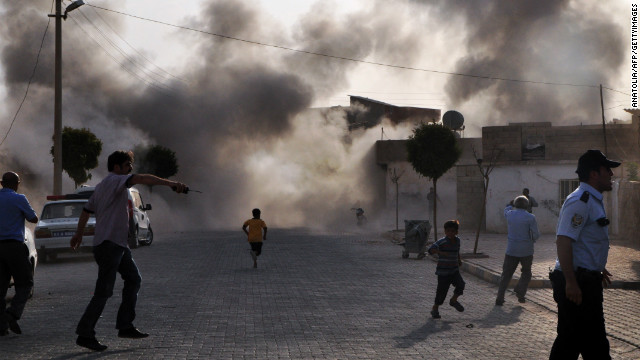 Smoke rises from the explosion area after several Syrian shells crashed inside the town of Akcakale in Turkey, killing at least five people on Wednesday, October 3. It wasn't the first deadly cross-border incident between the two neighbors during the 18-month-long uprising in Syria.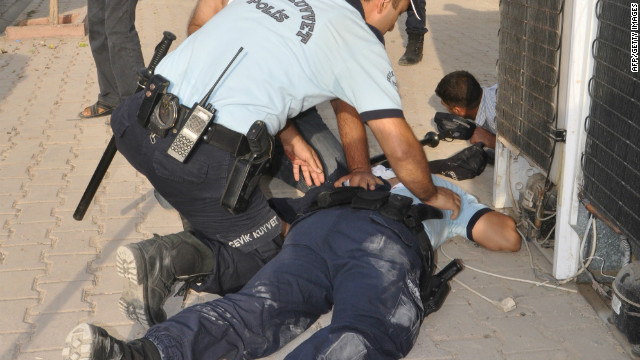 A police officer is injured in Wednesday's attack on Akcakale in Turkey's Sanliurfa province.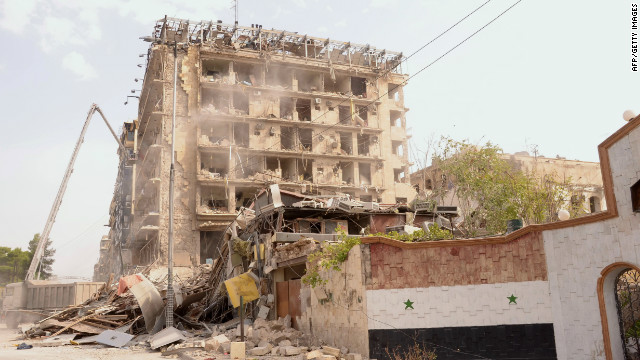 Three car bombs destroyed the area around a military officers' club and a hotel in Aleppo, Syria, on Wednesday. At least 40 people were killed and 90 wounded, most of them soldiers, a monitoring group said.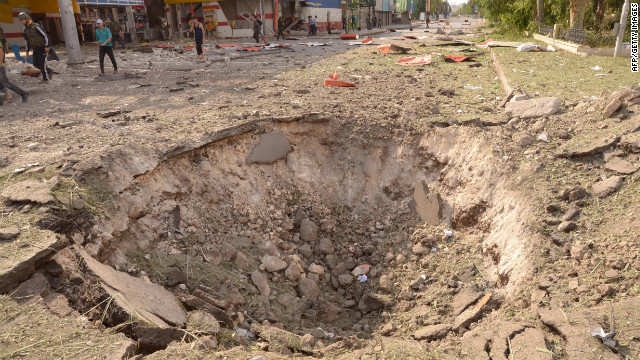 Car bomb explosions on Wednesday left a crater in the ground.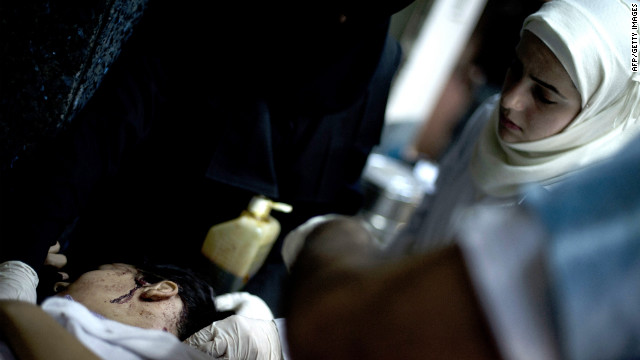 A nurse helps treat a 7-year-old girl who's neck was badly wounded by shrapnel at the Dar Al Shifaa hospital in Aleppo on Monday, October 1.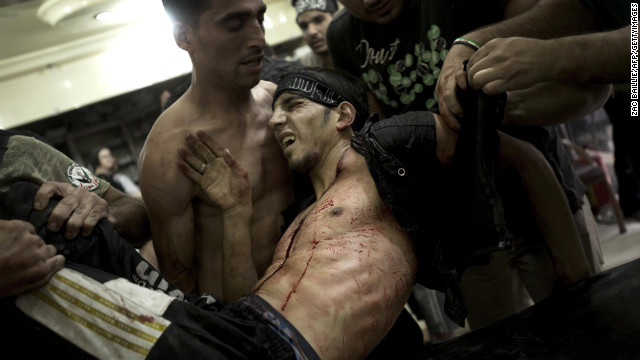 Friends lay a rebel fighter on a gurney after he was shot in the chest during heavy battles in the Midan neighborhood on Monday.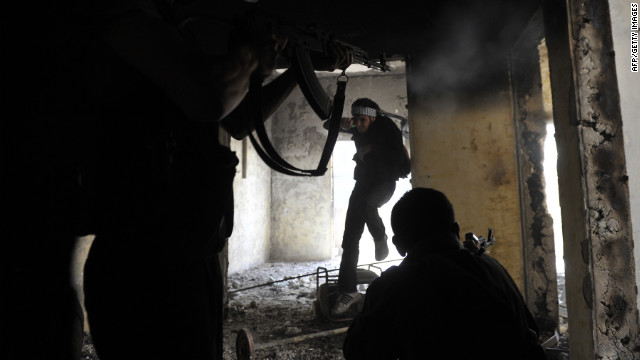 Photos: Showdown in Syria
His comments followed reports that Russia was demanding answers from Turkey. There were 17 Russians aboard the plane, according to the state-run Itar-Tass news agency.
Turkey forced the airliner to land Wednesday in Ankara, saying it had received intelligence that the plane was carrying weapons bound for Syria. Turkish officials seized 10 boxes believed to be parts for military communications equipment, according to TRT, an official Turkish news agency.
The plane was allowed to leave for Syria a short time later, TRT reported.
Syria's transportation minister, Mahoumd Ibrahim Said, described the forced landing as an act of piracy, in a telephone interview with Lebanon's Hezbollah-run Al Manar TV.
Tensions between Turkey and Syria have boiled over in recent months, with Istanbul accusing Damascus of shelling its border towns where thousands of refugees have fled from the fighting. Turkish forces fired in retaliation and authorized its troops to venture beyond its borders.
Syria and Turkey once enjoyed warm relations that included visa-free travel and robust trade between the countries.
But relations ruptured as al-Assad's government waged its bloody and unrelenting crackdown on anti-government demonstrators.
Russia, a trade partner of Syria, and China have repeatedly blocked U.N. Security Council efforts to try to end the carnage. Russia's Foreign Ministry has said the conflict must be decided by the Syrian people.
Opposition: Homs under fire
Al-Assad's forces shelled the flashpoint city of Homs in western Syria early Thursday for a third day, the London-based Syrian Observatory for Human Rights reported.
Government troops and rebels have battled on and off for control of the city in the months following the start of the conflict.
At least three government troops were killed and a number of rebels were wounded in the latest fighting, the Syrian Observatory said.
At least 18 people were killed in fighting across Syria on Thursday, including five in Homs, the opposition Local Coordination Committees of Syria reported.
CNN can't confirm reports of violence or casualty counts as access to the country by international journalists has been severely restricted.
CNN's Hamdi Alkhshali contributed to this report.